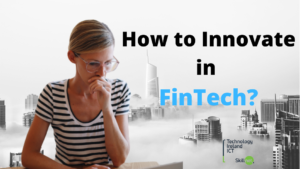 "The Bankers of the future will be very different from the Bankers of today" Henri Arslanian
Like all industries, the finance world is moving at a rapid pace. With predictions that every company will be a fintech company in one way or another,it's a transformation that is not going anywhere.
In this article, we discover what innovation in Fintech actually means and how you can improve innovation in your Fintech workplace.
But first, back to basics.
What is fintech innovation?
Fintech combines the words financial and technology to describe the use of innovative technology in delivering financial services and products to you, the end consumer.
Naturally, in recent years there has been much global innovation in this sector with the evolution of tech. As such you can be sure that there will continue to be much more innovation in Fintech,with many opportunities professionally.
As the graph below shows, the estimated number of employees in the FinTech Industry is forecasted to grow in the UK & EEA over the coming years.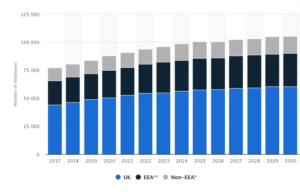 Why Innovation in Fintech? And Why Now?
There has been a gap between the traditional financial institutions and modern consumer expectations. In this century so far, what we have come to expect has greatly altered.
These modern technologies that we now take for granted — your smartphone, social media, rapid broadband, etc — have led not only to a demand but an expectation of a positive and convenient user experience.
For a long time, this was not being met by the traditional institutions. You probably didn't associate going to the bank with having a fun experience. In fact, it was reported that millennials would rather go to the dentist than listen to what the banks tell them!
This demonstrates that there was a clear problem in the industry, due to a gap between the growing expectations of consumers and the reality of financial services.
Enter Fintech.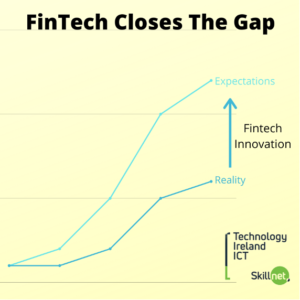 At its core, Fintech makes life easier for everyone. Time, convenience, and better user experience are at the heart of this innovative revolution. And the benefits are not just for us here in Ireland.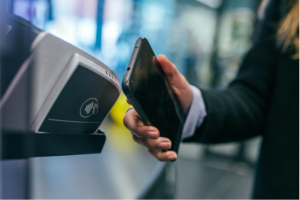 How can Fintech change Global Society?
Prior to the Fintech revolution, many people and households were 'unbanked',meaning they were not associated with a bank. Particularly in developing nations, many people have saved their money by hiding their physical cash. However with Fintech, those same individuals now have access to financial services via their smartphone.
This gives personal autonomy and access to financial resources. We are seeing more people going from unbanked to banked across the world.
It is clear that Fintech is having a revolutionary impact on the global financial services industry, and that at the core of this impact lies innovation. So what are the biggest areas of innovation in this space and what's coming down the track?
There are many, but here's our top 5:
Five Top Fintech Innovations
1. Blockchain
Although often associated with the volatility of cryptocurrencies and the latest trends in NFT's,blockchain has and will continue to be a big player in all thing's tech related. As an emerging technology, this means there's great scope for using it in the evolution of Fintech. Some of the main areas for Blockchain deployment in Fintech include:
Smart Contracts
Digital Payments
Digital Identity
Share Trading
(Source here)
2. Artificial Intelligence (AI)
AI is another powerhouse when it comes to emerging technologies with many potential uses in Fintech. For example, AI can be used to detect and stop fraud in digital banking channels. To combat the threat of online fraud,many institutions are using AI powered risk analytics to analyse data in real-time.
Furthermore, AI can help improve customer retention, speed-up loan approvals and improve the overall customer experience.
If you can get your answer quicker using an AI chatbot,  rather than being stuck on the phone to a call centre, then that's probably the best option for you. (Of course, this is contextual… but nevertheless, the power to improve the user experience is constantly improving with the help of AI).
3. IoT (Internet of Things)
With an estimated 64 billion IoT devices worldwide by 2025, the potential to use it in the innovation of Fintech is huge. A simple example would be improved customer assistance.
Imagine your smartphone notifying account supervisors in banks and financial institutions when you physically arrive at the branch. It would make things a lot easier and quicker for you and the employees, right?
Another IoT example might be car insurance. What if your car insurance went down because your car automatically notifies your insurer that it knows you've been driving safely?
Seems far fetched? It shouldn't. IoT is bringing your devices to life and thus streamlining your financial services.
4. Quantum Computing
Quantum computing will be able to exponentially improve our ability to process and analyse big data and many believe it to be the key to leveraging machine learning and the power of AI.
Therefore, it's no surprise that many financial institutions have started to adopt quantum computing for their backend computations. Trading, asset pricing, risk analysis and more are just some of the practical ways that quantum computing can benefit Fintech companies.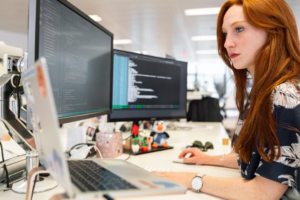 5. Peer to Peer Transactions
You've probably heard of Revolut right? Platforms like these are allowing for quick and easy transfers between individuals. In this area, many institutions can stand to improve this basic but very useful feature.
Furthermore, there is also an evolution in Peer-to-Peer Lending. This is another 'disruptor' as it provides an alternative to loans. Considering this was previously available only at banks, Fintech has revolutionised the sector.
How to Improve Innovation in Fintech?
So how can you and your company innovate when it comes to Fintech? One of the biggest factors to consider is mindset. The Fintech mindset is one of growth and forward thinking.
And while technology is a massive part of it, in order to execute and harness this innovation you need the right people. For this reason, upskilling to develop not only the right skills but also the right mindset is critical.
MSc in Innovation in Fintech At ICT Skillnet
Introducing our Fintech MSc (Masters) Course at ICT Skillnet. This grant aided Fintech course Combines theory and practice. the 2 year online course has been meticulously designed to bring innovation to the Fintech world. If you are serious about getting up to speed and reaping the rewards of your Fintech career (or if you're a company looking at client upskilling options), consider our MSc in Innovation in Fintech.
For full course details, check out here.
Also and very similiar we have
The MSc in Fintech Innovation at MTU.
Full Course details here.
Both courses are great options for those interested in upskilling in the Fintech world.
Final Words on Fintech Innovation and Transformation in Financial Services
The financial world is changing rapidly. With so many disruptors and advancements, the global Fintech Snowball will only continue to gather pace. The question is will you be there to take advantage of it for your career and company?
"Learning and innovation go hand in hand. The arrogance of success is to think that what you did yesterday will be sufficient for tomorrow." William Pollard