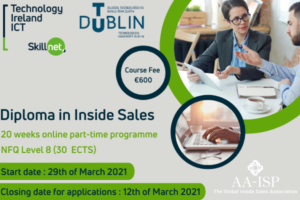 Do you work in Sales? Or maybe you have a business where face to face selling is a big part? Undoubtedly you've probably been affected by the craziness that Covid19 had thrown at us.
Due to the current health crisis, there has and will continue to be major ramifications across so many areas of life. Socially and economically, the full extent of the fallout is not known. And of course sales will be heavily impacted – whatever the outcome in the long-term.
The reality is face to face sales will decrease in light of the current climate. Through social distancing and other measures, the traditional sales model is no longer applicable (for the time-being).
However in the meantime, you still have a business or job to look after. In these difficult dark days, we must adapt. We must evolve. The obvious answer to this problem both in the short and long term is Inside Sales.
What is Inside Sales?
Inside Sales is essentially selling done remotely. Typically this is through email, phone calls or any other medium online. The rise of Inside sales has naturally coincided with the technological revolution of the internet era.
It is the dominant sales model for reps in B2B, technology, SaaS and a variety of B2C Industries involving high touch transactions.
Introducing the Diploma in Inside Sales
The Diploma in Inside Sales is a new and improved edition of the Inside Sales Programme. This 20 week part-time program is delivered online to help you give the edge in the competitive arena of Sales.
The course has been developed to give you real-world skills- so you can immediately apply the knowledge to your field. As John Jameson, co-developer of the programme highlighted, its applied nature is one of the stand-out benefits.
Benefits of the Diploma in Inside Sales
Online delivery – this course is primarily online so you can take it from the comfort of your own home while maintaining social distancing protocols.
Applied nature – No fluff. Yes there is theory but it's grounded in practicality. Take what you learn and apply immediately to your organisation or job.
Competitive edge. Sales can be cutthroat. But when done right… it's the difference between failure and success in business.
AA-ISP Membership. Get a free one-year membership of the AA-ISP (American Association of Inside Sales Professionals). This membership alone can open you up to so many great pros in the Sales arena.
Supercharge your CV. Obtain accreditation from TU Dublin with a Level 8 (30 ECTS credit) Diploma in Inside Sales AND an industry accreditation from the AA-ISP.
Thinking Management opportunities? –For anyone thinking of a management role, this course gives you the ideal springboard to lead.
Reduced Fee – For now, the fee has been reduced to €600 – considering the value this brings your career, it's a worthy investment.
Led by Pros. It's a unique collaboration from an Irish University -TU Dublin and the AA-ISP
What's covered in the Diploma in Inside Sales?
Everything is covered in the diploma in Inside Sales – from Interpersonal and intrapersonal skills to the core sales skills. Furthermore, to stay in line with the practical nature of the course, there is an application capstone project.
The Diploma in Inside Sales is the genesis of a truly unique collaboration between the academic world and industry. You will gain a deep understanding of the timeless principles of Sales in a digital context, while having the techniques and methods to execute in the real world.
Final Words – To Sell or Not To Sell
Now is the time to Future proof your business or career. While we don't know what will happen with the current health emergency in terms of a timeline – we do know that the world and marketplace will move on and adapt. It always has and always will. The question is will you use this time to the best of your ability. Will you come out on top? Or will you wait and watch others succeed?
Warren Buffet famously said – Be greedy when people are fearful and be fearful when people are greedy. There is a lot of fear in the air – but this also gives you a great opportunity to double down and come out stronger in a post-pandemic world. Professionally and personally, there is a great opportunity to develop YOU in this time. As a sales professional, this could be your moment to step forward and drive your career on. Don't hesitate.
If you have any questions about the diploma in Inside Sales please contact us.
In the meantime, stay healthy, stay safe.