Bored of lockdown and pondering a possible career change?
If you're unemployed and looking for opportunities in the tech world –
Well we have some news that might just ignite your curiosity.
 **Read on as the deadline for applying is May 2nd**
A Sad State of Affairs for Job-Seekers? Not for Techies
Right now, it's not the easiest of job markets to be in. The Covid 19 pandemic is having its impact globally and Ireland is no exception, as demonstrated by the latest Irish unemployment figures. Many businesses have been affected and some sectors like hospitality have been brought to its knees. But the good news is you don't have to continue to be part of these stats – if you keep an open mind around upskilling and the opportunities this might open up for you, then there's every reason to be hopeful.
The tech sector has generally been less negatively affected and in some areas this pandemic has driven a broader uptake of software tools and tech – bet ye didn't expect your granny to be a whizz on Zoom back in 2019? Or that you'd be ordering your sambo's for lunch from the local café online…
Ok I'm Interested in Tech but I have no Experience?
It's a very reasonable and rational concern. Likewise you might be thinking about the financial cost in upskilling. To start over again from scratch can be daunting. But the reality is that it's not often the case.  Whether you are changing careers during a pandemic or otherwise, you can always start a new career with a little planning.
So if your unemployed and considering tech, listen up…
Introducing the Future in Tech Programmes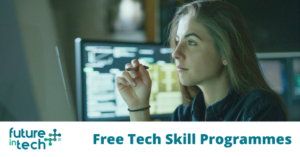 Future in Tech is a FREE Programme, developed to help non-tech jobseekers quickly and easily learn new digital skills and access new job opportunities. Our first Future in Tech Academy programme in 2020 had 7 Pathways to Tech and was over- subscribed and this year we have added an 8th Pathway to the programme in response to demand.
Developed by Technology Ireland ICT Skillnet and co-funded by Skillnet Ireland and the member companies. Skillnet Ireland is funded from the National Training Fund through the Department of Further & Higher Education, Research, Innovation and Science.,this is an exciting opportunity for ambitious job-seekers. Not only that, there's a lot of options – so you can find the right fit for your aptitudes and interests.
So what is the Future in Tech Academy offering?
There are 8 diverse and exciting programs:
IT Technical Support Specialist
IT Networking Specialist
Cloud Practitioner
Digital Marketing Professional
Cybersecurity Analyst
Software Developer
Web Developer
Data Analytics
Each program is unique and presents a very viable and real-world route into engaging and rewarding career paths for the right candidates.
Advantages of the Programme
It's Completely Free
Industry accredited qualifications
Career Support – Access to expert guidance and support in helping you land your dream role and hit the ground running.
Networking Opportunities – Meet like-minded people who can help drive your career forward.
Mentorship programme with a number of top companies. Getting this real 'live' experience is a priceless learning opportunity.
It's Practical. Although the nuts and bolts of theory will be covered – you will be learning through action learning labs in small groups of students which can allow for tailored one to one support.
All in all, it's an ideal learning environment to get you up to speed in your chosen pathway.
Who is the Future in tech programme for?
Unemployed
Non tech jobseekers
Ambitious people who want to take charge of their career and life by starting a career in tech.
How are the successful applicants chosen?
First you must submit your application online At our website www.futureintech.ie.
You will be invited to complete 'Get Connected', a basic introductory certified course that typically takes 30 hours to complete. You will do an assessment at the end of the course and if you pass this assessment achieving 80% you will be allowed to proceed to the next stage.
You will then be asked to Register your interest in One of the 8 Pathways online.
The next stage is to complete an online Aptitude Test. You will then be ranked on the grade achieved in the Aptitude Test and the first 25 applicants will be offered a place on the first course of each of the eight Skills Pathways.
(The remainder will remain on a waiting list and may be offered places as they become available in future programmes as per ranking.)
In Conclusion- Your Future in Tech is Now
This is a terrific opportunity – Apply here to kick start your own career in tech.
The Application Process is now open on www.futureintech.ie (closing May 2nd  so hurry!)
If you have any questions, please get in contact with the team at Future in Tech.ie
Best of Luck.