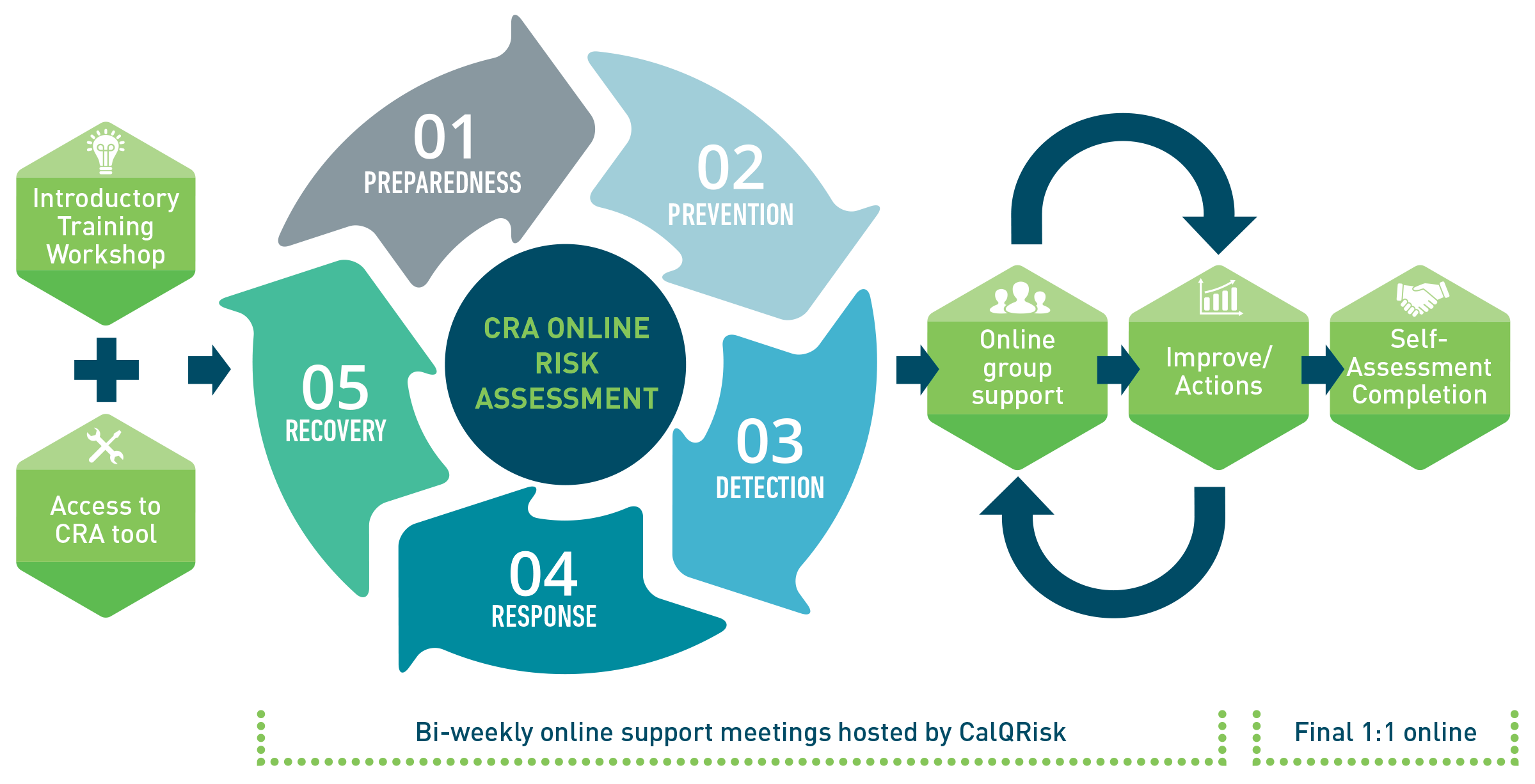 The Cybersecurity Risk Assessment Program is a practical way to assess the cybersecurity risks your business faces and helps you mitigate those risks. The program consists of an introductory training workshop, eight weeks of online implementation support and access to our custom-built Risk Assessment and Management Software Tool.
During the workshop we'll introduce you to Five Key Risk Areas in assessing the risks for your business:
Preparedness
Prevention
Detection
Response
Recovery
We'll also take an in-depth look at our Risk Assessment Tool and its various features so everyone is familiar with how it works. The tool provides a risk rating that is unique for each business. Companies can then implement the necessary changes to improve their rating over time and make themselves more secure.
Cybersecurity Risk Assessment Tool
Upon logging in you will arrive at your dashboard that can be customised to suit your needs. The dashboard will highlight elements such as the various tasks that you are carrying out in order to improve your risk rating and highlight what tasks are in progress and overdue.
From the dashboard you can also get a detailed overview of your assessment status. Each business will answer a series of questions that feeds into the status.
By clicking on any pieces of the pie chart, for example the 'No' section, the assessment tool will then give a detailed list of these questions for the user.
There are various measurements that show overall improvement over time. You can also track responses to attacks here which is important from a compliance point of view to show how your business deals with any cyber attacks.
Within the risk area of the tool you can see the Five Key Risk Areas. Each of the areas has its own subset of questions and options and from here you set the level of risk for each individual area.
You set consequences for each risk – for example a consequence might be downtime of a website. Then you can set the level of risk associated with that consequence and the level of significance from negligible to substantial. The consequences will vary from business to business.
Then the user can analyse their level of risk an options to mitigate the risk.
The Control Options highlights gaps that your business should focus on improving. You can select one of the options and you will be brought to the Tasks area. Here you can set your various tasks, write descriptions, create deadlines and assign them to team members.
If you are interested in learning more about the Risk Assessment Program take a look at our upcoming events near you in Dublin, Cork & Limerick