We work with Irish Universities to design, develop and deliver top class industry focused Masters Qualifications in a myriad of technologies.  All programmes are part-time, delivered primarily online and are part-funded which reduces the costs to €3,150 per annum.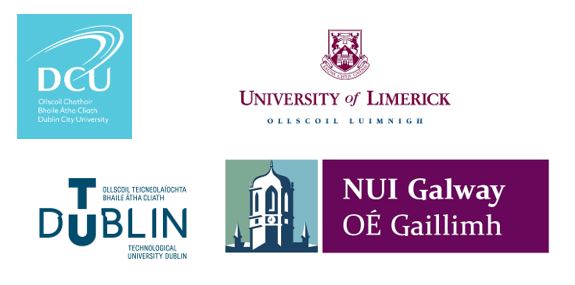 Below is a summary of what's coming up in September.
We have three Level 9 Masters programmes in Artificial intelligence across three universities.  Click on the links below to be brought to the relevant pages for further information.
MSc in Artificial Intelligence with University of Limerick
MSc in Computing (Artificial Intelligence) with DCU
MSc in Computer Science (Artificial Intelligence) with NUIG
MSc in Internet of Things (IoT)
We recently launched a brand new MSc in Internet of Things with DCU which aims to provide a pathway for existing ICT professionals and those wishing to convert from associated disciplines to acquire the necessary skills to pursue careers in the IoT technology and applications domain.  IoT technologies are enabling a wide range of business opportunities in the context of "smart" homes, neighbourhoods and cities and in the exploitation of intelligent infrastructure and services, in areas such as transport, power and healthcare.  Click here to find out more
The Minister for Business, Enterprise, and Innovation Heather Humphreys T.D. recently launched Ireland's first ever Masters in Blockchain.  The Irish government is working to position Ireland as a hub of excellence for Blockchain developments. One of the key components for this strategy is to have enough IT professionals with the right skills to deliver Blockchain projects.  We developed this programme with DCU in collaboration with industry to meet this need. Click here to find out more
All programmes are closing for applications on w/c 22nd July and places are limited on each  so act quickly to ensure you are in with a chance to start one of these cutting edge Level 9 accredited Masters in the technology of your choice.