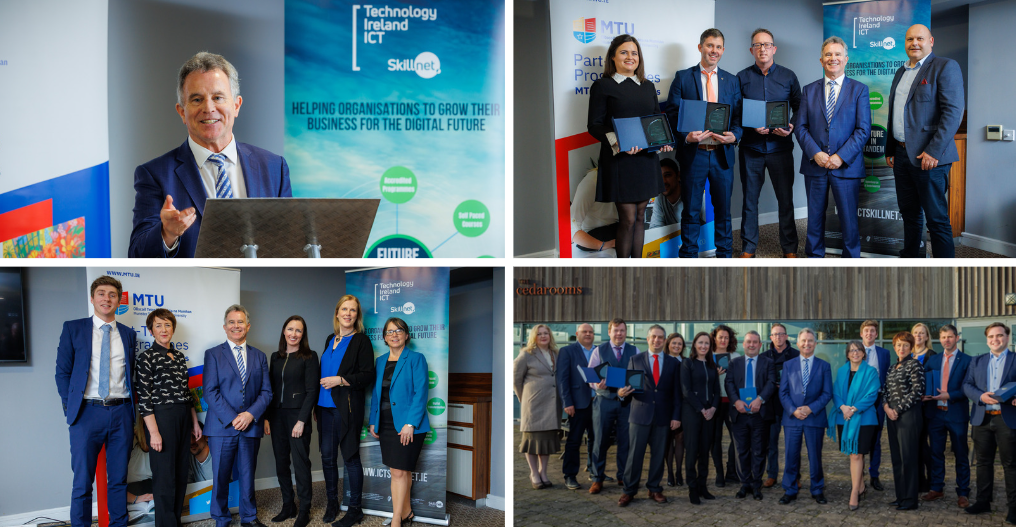 Minister Sean Fleming presented awards to the first graduates from the MSc in Fintech Innovation in the Killeshin Hotel, Portlaoise. This innovative programme was developed in collaboration with Technology Ireland ICT Skillnet, Munster Technological University (MTU) and Skillnet Ireland.
The Masters programme was developed through Skillnet Ireland's co-creation model which plays a key role in facilitating engagement between enterprise and the higher education sector in the co-creation of new programmes to meet future skills.
The course has equipped the graduates with critical insights into fintech across the key pillars of finance, technology and innovation. It meets the needs and contributes significantly to future proofing the financial operations across all domains including the financial services sector itself.
The programme is one of the key components to positioning Ireland as a world leader in fintech, platform development, and technology-based financial services as recommended by the Ireland for Finance Strategy. The industry-led programme was developed through partnership with key sector companies including Technology Ireland ICT Skillnet member companies, with support from IDA & AmCham.
Speaking at the graduation Sean Fleming, Minister of State at the Department of Finance said: "I would like to congratulate all the graduates of the Masters in Fintech innovation. This programme is a critical element of my Department's Ireland for Finance Strategy. I am committed to working with education institutions, Skillnet Ireland and the IDA to ensure courses like this give us the talent pipeline needed to strengthen Ireland's position as a centre for international financial services."
The innovative MSc in FinTech Innovation was delivered in MTU's Tralee campus in Co. Kerry.
At the ceremony, 11 MSc graduates received awards, with Kieran O'Connor, Software Development Manager at Fexco winning the Student of the Year award.
Eoin Morton, Public Affairs Manager at Skillnet Ireland said: "The financial service and technology sectors have a significant presence across the country in several regional locations. Skillnet Ireland has taken steps to drive innovation and support talent development in the fintech sector through collaborations with industry and the higher education sector. The MSc in Fintech Innovation from Technology Ireland ICT Skillnet, IDA and MTU is an excellent example of how such partnerships between industry and the higher education sector meet the business and talent needs of the financial services sector."
Siobhán Hanley, Head of Fintech & Payments at IDA Ireland said: "It's exciting to be involved in this MSc in Fintech Innovation. Graduates of the programme bring new skills and capability to this dynamic industry. The course is an excellent example of collaboration between MTU, Skillnet Ireland and IDA Ireland responding to the needs of business."
Dr. Breda O'Dwyer, Senior Lecturer in Entrepreneurial Leadership Mindset at MTU said: "Munster Technological University are delighted to have collaborated with Technology Ireland ICT Skillnet in developing and delivering the MSc in Fintech Innovation. It was a great honour for both the academic and the Lifelong Learning teams at MTU to be present as Minister Sean Fleming acknowledged the success of the programme and the achievements of the graduates. These graduates encapsulate all the qualities of exemplary participants who have been recognised and held in high regard for their academic excellence and leadership prowess in the financial services sector."