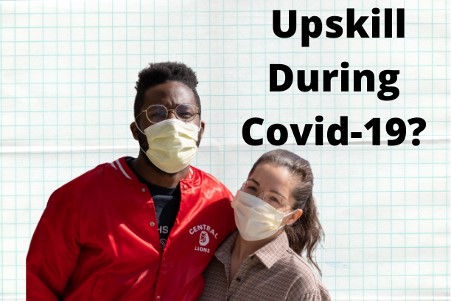 It has been tough going in 2020/2021 (so far), with Ireland in and out of different levels of restrictions since March of last year– we are all weathering the storm of Covid-19.
From a commercial perspective, business has borne a heavy burden; many companies are prevented completely from trading and some haven't been able to survive the lack of revenue. So it's no surprise that as a result of Covid, unemployment has gone up significantly. The latest figures show unemployment at 14.7% in Ireland.
Maybe you are in that category at present? Or you might know someone who is currently out of work? It's a very tough situation, but here's a bit of good news – there may be an opportunity to change your career during covid. This could be a golden opportunity to recalibrate your career and upskill.
Because right now there are a number of Free courses available that you could consider. Let's check them out.
Free courses during Covid19
ICT Skillnet CISCO Networking Academy
Cisco Networking Academy is an IT skills and career building program for learning institutions and individuals worldwide. Self-paced courses are designed to take in line with your own agenda, at any point in your career journey. More than 9 million people have joined Cisco Networking Academy and it has become a force for change in the global economy since 1997.
There are many cutting edge and self-paced training programmes including:
Introduction to Cybersecurity
Cybersecurity Essentials
Introduction to IoT
Linux Unhatched
Linux Essentials
Get Connected
Programming essentials in Python
All the details on CISCO Networking Academy can be found here. Note – there is no specific start date as it is self-paced training.
Lockdown Your Learnings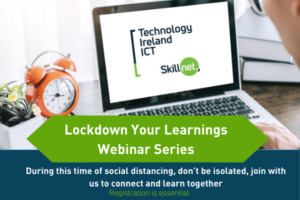 We want to help you stay up to date, feel connected and make best use of this remote working lifestyle we've all had to adapt to. Every month we will be holding 45 minute webinars covering a variety of topics with special guest speakers.
During this time of social distancing, don't be isolated, join with us to connect and learn together.
Full details on Lockdown your learnings can be found here.
 Future in Tech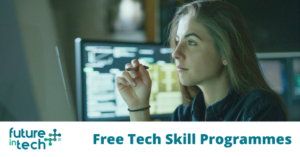 Are you a jobseeker and interested in a career in tech? If so, we have some exciting news.
The Future in Tech deadline is now open again – until May 2nd. With 8 different programmes in tech (now with the addition of data analytics) this is a free professional opportunity for the right candidates. Apply and see what happens.
Final Words on Upskilling during the Pandemic
Despite the difficulties of the current situation, maybe it's a chance for you to change things for the better; developing new skills in a field where you have a natural ability but no training  – this may be the right moment to change career. The pandemic has brought hardship but if you are unemployed and are looking to better your career options in the world of tech – then this is actually a good time to get moving as many of the courses that are available at no cost may not have been available or affordable in the past.
Stay informed: We also have a YouTube account which provides tons of content on a variety of courses and tech topics. Subscribe to stay up to date with the latest videos.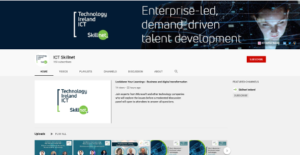 There are many amazing resources out there (including ICT Skillnet 🙂 ). Maybe you can use this time to upskill and transform your career?
If you have any further questions about any of our free courses – then please get in touch with us.