Inside Sales (IS) is a rapidly-growing industry and Ireland is quickly establishing itself as a centre of excellence for IS.
What is Inside Sales?
Simply put, it's professional sales done remotely. This means that the workforce can be based anywhere globally – subject to good comms. of course – and there can be flexibility in working hours as time zones vary. Through phone calls, emails, video conferencing and more… IS is independent of location. Funnily enough, it could be said that IS was ahead of the curve in this respect. When Covid hit, those companies that embraced it early on have been at a considerable advantage throughout this pandemic.
So, with high demand for IS roles and strong competition to fill them, how can you position yourself to succeed in this field, and to have an edge over others in the industry? In this post we'll delve into the pros and cons of a career in Inside Sales. But first, a common question…
Inside Sales vs Outside Sales. What's the difference?
Essentially, Inside Sales is selling done remotely whereas Outside Sales reps have traditionally travelled to broker deals face to face. Needless to say, the Covid 19 pandemic has had a big impact on Outside Sales in this regard as working in the 'field' has been largely impossible.
Is Inside Sales a good career?
Absolutely. While it takes certain skills to really rock it, if your skill set matches the requirements of the job, not only will you love it, but it can be a very lucrative career too.  Your soft skills and ability to develop and nurture relationships will be paramount. Of course technology evolves, but in reality people will continue to do business with people. Therefore, the longer term career trajectory with Inside Sales is full of opportunities.
What are the benefits of a career in Inside Sales?
There are many, but here's the main ones:
Lifestyle
The very nature of Inside sales means that it is selling done remotely. This was the core basis of Inside Sales long before the arrival of the Covid-19 pandemic. On a practical level, this means you have more personal freedom and autonomy. You won't have to travel endlessly to meet prospective clients. It can all be done from the comfort of your office or home.
Obviously, the option to work remotely – whether that's from home or a local satellite office or the Bahamas (!) – will vary from company to company in a post-pandemic world but without a doubt, there will be more opportunities to work remotely and IS sales will become more predominant as a business generation activity in the "new" world.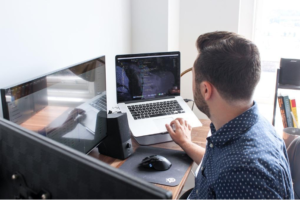 Great Learning Experience
The modern Inside Sales rep works with a variety of different teams and touchpoints. This means that throughout the sales process – you can gain a deep yet holistic view and appreciation of the product you are selling. This fundamentally makes you a better salesperson and sharpens your ability to progress your career through an organisation or across sectors. Even if at some point, you wanted to totally change career, you will have developed some very transferable and tangible skills. Everybody is a salesperson in some sense of the word but those who become successful have developed the kind of skills that are sought-after and well paid.
Networking – Professionally & Personally
"Instead of better glasses, your network gives you better eyes." — Ronald Burt
As a result of working in close proximity with various teams in the organisation – you have the opportunity to get to know a lot of people. Different skillsets, different personalities and different stories. Needless to say, this can lead to a more interesting and engaging professional experience and even the potential to expand your social life.
Autonomy
Unlike Outside Sales, your day to day is a bit more predictable. You generally are not expected to go to many conferences or industry events and as mentioned there is no endless travel.  This control over your schedule may not be for everyone… but it does give you autonomy over your day to day working life. Of course within a given day (like most work environments) there will be challenges and unpredictable things can happen, but that all leads to more professional growth.
Transparency and Meritocracy
While your soft skills and networking ability will always be important – especially when it comes to relationship building with clients or prospective clients – your success in this field is not hindered by just 'who you know'. Sales is very much data driven and numbers focused. In many organisations you will have certain targets and figures to meet every month. This generally determines your progression in an Inside Sales career. Therefore rest assured by doing the best job that you possibly can… you will be rewarded in due course. And if you like well-defined goals, you'll enjoy the challenge of a sales target.
Ireland's Opportunity for Inside Sales
Ireland is well positioned to become a global leader in this field, and given the current economic and political climate, we are the location of choice for many global players looking to source reliable, professional IS suppliers and regional IS offices. As one of very few locations in Europe that speak English and continues to operate within the EU – which is a preference for many multi-nationals – there's an obvious growth opportunity in IS for the Irish economy.

Have a search to see the opportunities out there in this field and you'll see what we mean!
Do you currently work in Inside Sales?
Have you considered how to advance your career and become more successful in IS? The reality is that the jobs are going to be here but only those with the right skills and who have demonstrated a commitment to working within the industry are likely to secure the best roles. It will be important to show that you are willing to embrace the latest work practices and keep up with the technologies in use in the industry.
If you work in Inside Sales, you probably have a competitive nature, and so do your colleagues… so it's a good idea to find an edge that will help you to out-perform them both in the workplace and when you are looking to secure the perfect job.
Presenting the Diploma in Inside Sales Program
To give you the skills you need to succeed in IS and to keep up with the disruptive technologies you'll come across in 2022 and beyond, we are delighted to present the Diploma in Inside sales programme. Through a formidable collaboration of TU Dublin and the AA -ISP (American Association of Inside Sales Professionals), ICT Skillnet is excited to launch and part-fund this programme. It's dedicated to equipping you with the knowledge and skills needed to overcome the technological challenges you face in IS. It will give you the confidence and tools you need to work effectively and happily in the industry, into the future.
What are the benefits of the Diploma in Inside Sales Program?
Drive on your career. Inside sales can be a competitive industry – give yourself the edge.
It's fully online – giving you the freedom, flexibility and safety to take the course and work at the same time.
Save time by getting it done in 20 weeks.
Upon successful application, you will gain membership to the AA-ISP – this puts you at the centre of the growing Inside Sales community, with access to an array of the latest sales resources.
Relevant and up to date learning – you can learn from peers in other companies, and see how best practice is implemented in reality.
Supercharge your CV and obtain accreditation from TU Dublin with a level 8 (30 ECTS credits) Diploma in Inside Sales.
Inside Sales… Final Words
Inside Sales is an evolving and growing industry and it plays a key role in new business models. By helping you to bridge the skills gap, ICT Skillnet is confident that there is a great opportunity for individuals to build successful careers and for the IS sector in Ireland to compound its position as a centre of excellence globally.
Inside Sales is a very rewarding career. Will you step up your IS sales game?
To make the most of this opportunity and to find out more, please check out the programme for more details. Go for it!