20th November, 2023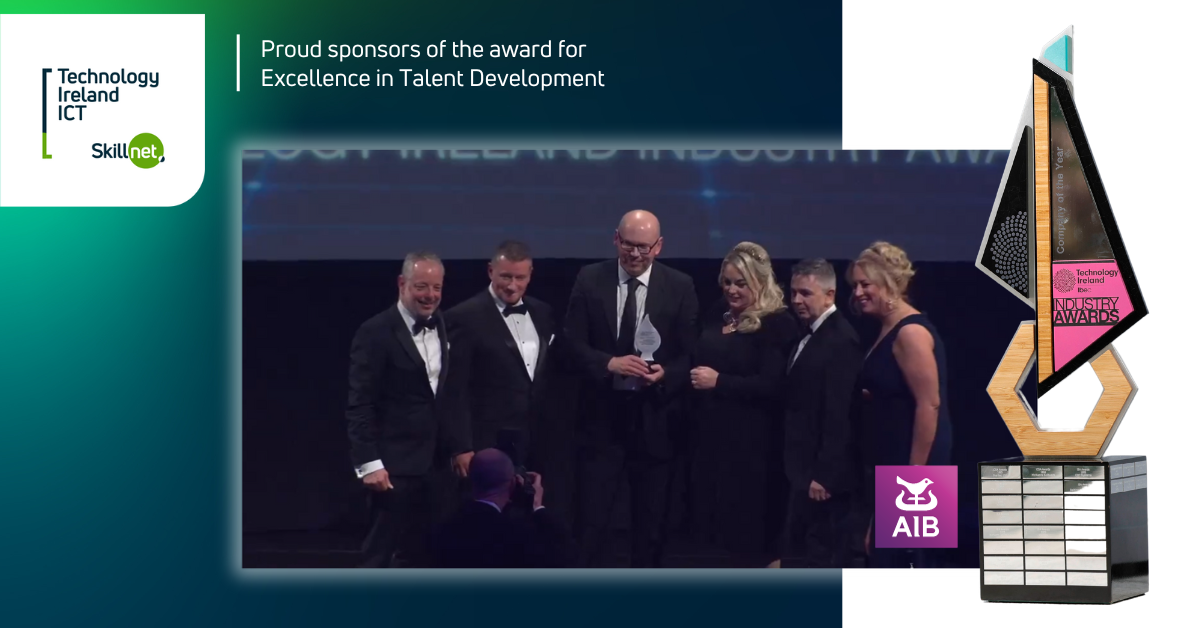 Recognising the achievements of the tech industry in Ireland
Technology Ireland ICT Skillnet was very proud to sponsor the award for Excellence in Talent Development, at this years Technology Ireland Ibec Industry Awards 2023, which took place 17 November in the Round Room at the Mansion House, Dublin.
The Technology Ireland Ibec Industry Awards recognise the outstanding achievements of indigenous Irish-owned companies and multinationals and celebrate the remarkable contributions of the sector to society, underscoring its vital role in positioning Ireland as a trusted global partner and key player in the ever-evolving technological landscape. The quality of companies, and achievements, on show at the awards was a genuine showcase of innovation, resilience, and vision within the tech industry in Ireland.
The Excellence in Talent Development award, sponsored by Technology Ireland ICT Skillnet, recognises the achievement of a company in its strategy and approach to foster continuous personal and professional development of its people. AIB were announced winners, from a fantastic shortlist of nominees, which included Westbourne IT Global Services, Carelon Global Solutions Ireland, and Fidelity Investments Ireland.
Network Manager for Technology Ireland ICT Skillnet, Dave Feenan, said "The calibre of entries for this year's Excellence in Talent Development Award is testimony to the strength of the technology talent pool in Ireland. I congratulate Graham Fagan and his team at AIB, the recipients of this year's award, and also praise the other short-listed finalists of Carelon, Westbourne Global IT Services and Fidelity Investment for continuing to strive for best in class talent development. We encourage any organisation looking to future proof their technology skills requirements to reach out to our team at Technology Ireland ICT Skillnet."

CWSI took home the big award on the night, winning Digital Technology Company of the year.
Learn more about the awards, and this years nominees and winners, at the Technology Ireland Ibec website.
---
---
---
Your destination for technology training
No matter what stage you are at in business or your career, there is always more to learn. Unleash your unstoppable potential, with Technology Ireland ICT Skillnet as your training partner.
Learn More About Our Courses