Tech is a massive part of the Irish economy (and Irish life) and it's only going to become more pervasive over time – so embrace it all folks! Here's a quick round-up of trends and tech you should be aware of; an A-Z of Tech in Ireland.
Artificial Intelligence
Rocking the world and how we do  business, AI is a is a wide-ranging branch of computer science concerned with building smart machines capable of performing tasks that would typically require human intelligence. Ireland is considered a top talent hub for AI.
Blockchain
This is one that you'll be learning more about long into the future. Associated with crypto currencies, Blockchain provides a type of distributed non-repudiable ledger. Working on decentralised platforms, blockchain has the potential to revolutionise how we do business in so many ways. With many now considering blockchain as an exciting career – this will continue to make waves in tech.
Cyber -Security
Companies of all sizes have to be vigilant to the threat of a cyber-attack. Cyber-security skills are in demand with Ireland being recognised as a key European hub for the profession. ( If you're considering a career in cybersecurity now could be a great time to think about breaking into this exciting field. Fortunately there are many great cyber security courses in Ireland)
Data Analytics
The ability to look at data and derive meaning from it in a helpful and strategic way is paramount for many businesses today. Uncovering patterns and correlations can make the difference in a breakthrough. Data Analytics skills are definitely something to consider in the wider tech context – and the Covid crisis has highlighted how critical some if these skills are at certain times.
Evolution
While not a hard skill or type of software, evolving your thinking and professional skills is essential in a high-tech, highly dynamic economy. The ability to innovate and ultimately evolve has been key to the Irish tech success story so far.
Facebook & Friends (Meta & Friends)
Well we really mean Tech Giants, but T is already covered below! In recent years, Ireland has become a hotspot for the big names like Google, Apple, Twitter, Linkedin and more. We cannot talk about tech in Ireland without recognising the influence these companies have on our economy and the fact that they have offices here in Dublin – offering extensive employment opportunities to those involved in ICT.
Honourable mention -Fintech. This is a massive and booming industry with innovation being at the heart of Fintech in Ireland and around the world.
GDPR
General Data Protection Regulation has been in the enacted as EU legislation since 2018. From a tech point of view, it changes how we have done business and ultimately has helped the public to have the protections they need from the mis-use of their personal data. Honourable mention – Global Business Services (GBS). The evolution of shared services, GBS is an area also on the rise in Ireland.
High Speed
In 2023, High speed is no longer an aspiration but a non-negotiable. From high speed broadband giving the potential to revolutionize Irish rural communities with the adoption of remote working… to a high speed website loading times; speed, it seems, is of the essence! And effective tech is now  synonymous with speed.
Inside Sales
Inside Sales, like so many areas of tech in Ireland, has grown significantly in recent years. Essentially selling done remotely, Inside sales is a crucial component of modern enterprises. Without sales, technology is left redundant. Without technology, Inside Sales can't happen.
Jobs
Undoubtedly tech has been one of the driving forces when it comes to jobs in Ireland. For a sense of the tech jobs out there, check out Linkedin.

Needless to say there are opportunities in the sector as a whole, as it is only projected to grow. If you are considering a career change, then tech could be a tempting option.
Key Performance Indicators (KPI)
"What doesn't get managed doesn't get measured" For all tech to be successfully carried out, there needs to be a benchmark in which to measure its success.  For a software developer, it could be how understandable is the code that's written – for inside sales, it might be the number of leads. KPI's can motivate people – as well as track success.
Leadership
This varies from the thought leaders in your industry that you might follow on LinkedIn, to the leaders working on the same team as you. Good leadership provides the avenue for tech to go forward. The Irish tech landscape is filled with talent and great leaders are driving progress in every part of the country. (Want to know how to maximise your leadership skills? Check out some of the best leadership courses in Ireland today)
Mobile
Mobile first. Every website, UX and customer journey is now mostly being envisioned through the most revolutionary device in recent years:  the smartphone. While desktop is still king in some quarters, mobile is undoubtedly entrenched in everyday life. If you're not reading this on mobile now, odds are your mobile is within touching distance?
Honourable mention: Marketing. Marketing as a profession has been transformed by tech also with digital marketing in Ireland being another fundamental service in the world of tech.

Networking Programming
Networking programming is another hot topic here. Cloud networking technologies are believed to create 9000 jobs in Ireland over the next 5 years. Having a skilled workforce in cloud and networking technologies will be integral to Ireland's long term success in this area of tech.
Open- Source
Open source is essentially something people can modify and share because its design is publicly accessible. While associated with software development, open-source goes way beyond this. A basic example that's widely used in Ireland is Content Management Systems (CMS). Irish businesses today embrace many such platforms including WordPress, Magento and more
People
People are behind the machines. Having soft skills in tech is fundamental to getting forward in tech. Developing offline relationships in an online world is still integral. Fortunately in Ireland, it's very possible to go out and meet (or virtually for now!) people in your field. Whether that's cyber-security or software developers, your tribe are only a click away.
Quality & Quantity
In the most recent reports, there more than 2,300 active tech startups and scaleups, over 400 Multinationals and 280+ innovation hubs. However there are is also a significant number of insolvencies among start-ups. Tech is undoubtedly on the rise in Ireland with many success stories – however start-up land is never a walk in the park.
Remote Working
In more recent times, Remote working has now become the norm. The adoption of platforms such as Zoom has become common place for many in and out of tech. The majority of tech workers in Ireland have had to rework their lifestyle to accommodate remote working.
Software Development
By software development, we mean the overarching industry here. With many software development companies and roles, in Ireland – this is a key component of the industry. IoT (Internet of things) for example is a ripe area for growth in the Irish context.
Trends
We released a post for the tech trends in 2022. Seeing the bigger trends, especially in the context of Irish history with tech – gives a great insight to where we are going (Who knows  exactly but it is changing and fast!).. What's next?
Users, Users, Users
It's all about the user – from UX to UI. Any successful tech product or service will take into consideration the real person on the other end of the app or site. If its buggy or it doesn't load properly or there's confusing text – the all makes for a poor user experience.  From Marketers to developers – everyone in the Irish tech game has (or should have) an acute awareness of the importance of the user experience.
Virtual Reality
VR stands to be a game changer in our entire experience. While the possibilities are still not fully exploited, there are many in the VR game making inroads in the Irish VR landscape.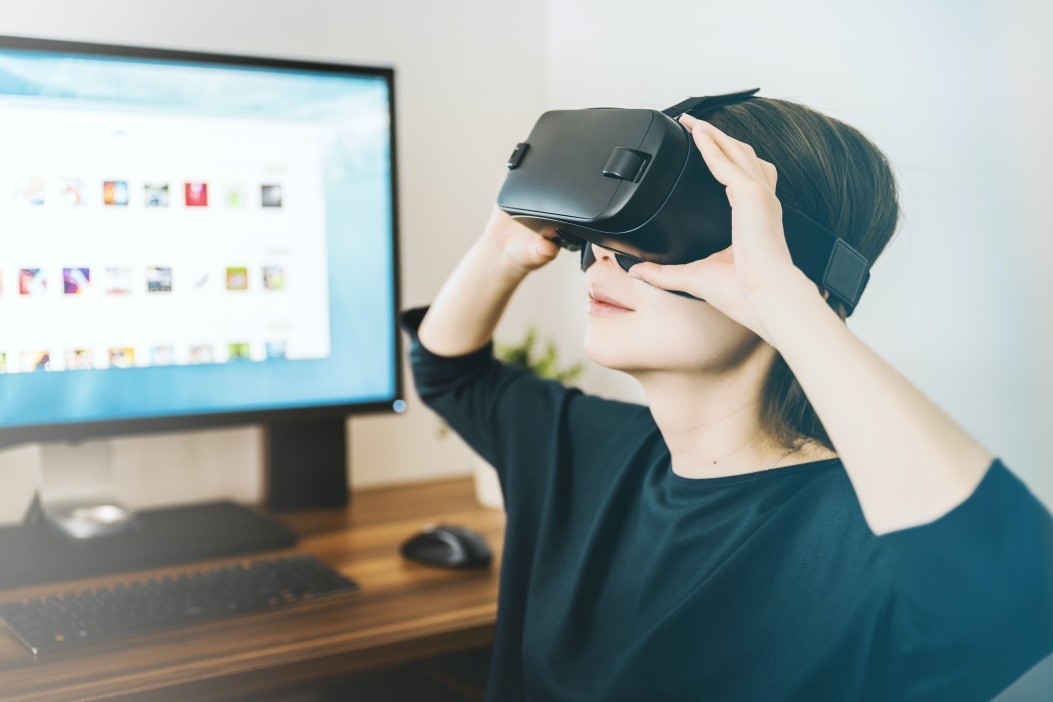 World market
Foreign Direct Investment is without doubt, one of the core driving factors of Ireland's economic growth over the years. With an educated workforce and being the only English speaking EU country, Ireland has become a viable option for many international businesses. This of course as mentioned, has led to the boom and creation of tech jobs in the country. Through globalisation, the Irish workforce has been internationalized. Tech in Ireland has most definitely wider international links.
XML (and the most important code)
Extensible Markup Language – Its purpose is to describe and structure data on the internet, for mobile apps, and elsewhere. Although XML is not a programming language, HTML,CSS, JAVA, Python and more… often all get conflated together. Regardless – code and coding jobs are massive in tech with Ireland being a stronghold in this department also.
Youth
With many areas being relatively new, the average age of tech workers tend to be lower and on the younger side. With some calls for coding to become compulsory in the Irish school curriculum, and education being transformed through interactive whiteboards – tech and youth are never far away from each other.
Zoom
We've all probably used this at some stage in the pandemic. A basic part now of Irish life!
Honourable mention: Zen like qualities when the computer freezes! Tech is amazing, transformational but when it doesn't do what its supposed to do – it's frustrating! Therefore zen like qualities are essential 🙂
This is an imperfect attempt to cover the A-Z of tech of Ireland – hopefully it's a heads-up on some key trends that you can watch out for into the future – and it's food for thought if you are thinking about up-skilling your ICT skills – just do it!